Abs are Shown in the Kitchen but Made in the Gym
Abdominals are shown in the kitchen but made in the gym. Against popular belief, the abdominals are like any other muscle group. Therefore, they need to be trained, rested and recovered like any other muscle. Training your abdominals every day will not get you abs — in fact, it may hinder them!
However, your abdominals are a collection of smaller muscles. These muscles can, therefore, be isolated and trained separately, and the recovery time for any one group is significantly less than your major muscles. Abdominals can be trained directly up to three times a week, every other day. They're also indirectly trained through big lifts, such as the deadlift and squat. This is how abdominals are "made in the gym."
To actually see your hard-earned six-pack, though, is where "shown in the kitchen" comes in. Typically, abdominals can only be seen at a strikingly low body fat percentage. For most people, this level of body fat is neither healthy nor maintainable year-round. But eating a balanced diet of lean proteins, fruits, vegetables, good fats, and whole grains can help to make those little abdominal nuggets pop from time to time.
The Best Tactics — TUT
Okay, so you're eating well. Now, how do you train your abdominals?
As I've said, abs are like any other muscle group. Training them requires more than hundreds of body weight crunches and thirty-second planks. Instead, your abdominal muscles require weighted tension — the same you'd apply to your legs or chest.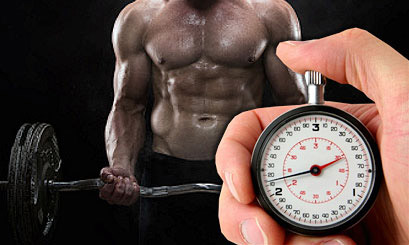 The best tactic for building your abdominals is "time under tension." Simply, Time Under Tension (TUT) is how long the muscle is underweighted strain during a set. The longer the TUT, the longer the muscle is active and contracting. And the longer the muscle is active, the more it can tear.
There are plenty of ways to increase TUT during a workout. The most effective way is to decrease your rest periods in between sets. This ensures that the muscle is generating enough energy to perform the next set, but not so much that it loses its contraction. Another way is to go until "failure", or when your body physically cannot perform another repetition with good form. Both tactics are excellent ways for increasing TUT.
And since the abdominals are such a small muscle group, they can recuperate fairly quickly. This allows for shorter rest periods, enabling longer TUT.
The Best Exercises
I'm going to let you in on a secret: crunches don't do much. They're publicized everywhere because they're easy and convenient. However, they also don't supply much tension to the abdominals. There are better exercises that can increase TUT and decrease training time so that you're not performing hundreds of crunches just to feel the burn.
Cable Crunches
I know what you're thinking. I literally just said crunches don't do jack squat, and now I'm saying do crunches. However, these crunches are performed with a cable and can add tens to hundreds of pounds of tension directly to the abdominals. They also target both the upper and lower abdominal regions, making them far superior to conventional crunches.
Perform the exercise by:
Set a cable machine up with a rope attachment, and pin the appropriate weight.
Grab the rope handles in both hands and place it behind your neck.
Pull the rope down as you kneel about eight inches away from the cable. Keep your gaze pointed down and your back straight.
Bring your elbows down to your thighs while keeping your back straight and core tight.

Do not sink into your heels! This takes the pressure off the abs.
Make sure to bring your elbows in so you can crunch your abdominals. Don't just hinge at the hips!

Slowly bring the rope back up to the kneeling position and repeat.
Perform four sets of 8-10 repetitions.
Leg Raises
Leg raises are a great exercise to target the lower abdominals. The trick is to pull from the core, not the feet. Pulling your body up from the feet takes the pressure of the core entirely. Instead, you're using the momentum of the feet to complete the movement. Make sure your core is tight as you pull your legs up — you'll feel the burn for sure!
These can also be performed with ankle weights for an added boost.
Perform this exercise by:
Lay flat on a mat or bench while holding onto a rail behind your head.
Brace your core and pull your legs up until they're perpendicular to the floor.

Your feet should remain on your chest and not your head! Bringing your feet too far back will relocate the pressure to the upper back and not the core.

Hold the upward position for a beat, then slowly lower your legs back down.
Keep your feet an inch from the ground to ensure TUT, then repeat.
Perform four sets of 10 repetitions.
Russian Twists
Russian Twists are a great exercise for targeting the obliques, or the side abdominals. They can also be modified to fit multiple fitness levels. This adjustment can be made by raising or lowering the feet, which adds tension to the core. Work on your stability to progress to the harder levels! You can also hold a dumbbell for added tension.
Perform this exercise by:
Sit on a mat with your legs bent at forty-five degrees, heels on the floor.

To make it harder, take your heels off the floor until your shins are parallel to the mat.

Lean back so that your body is at a forty-five-degree angle. Keep your back straight and your core tight!
Either hold a dumbbell or clasp your hands into a ball in line with your mid-chest.
Focus on an object in front of you so that your upper body doesn't move. Then rotate your hands (or the dumbbell) from side to side. Try to bring your elbow to your hip.
Hold the ending position for a beat, then slowly reverse back to the starting position and repeat on the other side. This is one repetition.
Perform four sets of 10-12 repetitions.
Bicycle Crunches
I know, another crunch. And I also know that you've heard of these before. You've probably done them, too. But I can bet that you've also been doing them incorrectly.
The key with bicycle crunches is to perform the exercise slowly. You're not Lance Armstrong riding a marathon, you're trying to keep tension on your core. Performing the exercise too quickly takes that pressure off because form fails. Instead, move through each repetition slowly and feel the burn!
These can also be performed with ankle weights for an added boost.
Perform this exercise by:
Lay flat on your back, hands laced behind your head.

Don't lace your fingers behind your neck! This causes it to strain upwards and put tension on your spine, not core.

Draw your legs up until they're at ninety degrees. Lift your chest and shoulder blades off of the floor.
Slowly bring one elbow to the opposite knee without moving your upper back off of the floor.

Pro tip: Make eye contact with something in front of you. This helps to prevent too much movement in the upper body!

Slowly release back to the starting position, then repeat on the other side. This is one repetition.
Perform four sets of 10-12 repetitions.
Hanging Leg Raise
Hanging leg raises are a bit more advanced than floor work because they require more core strength. It combines stability work with crunches, which definitely increases TUT.
These can be performed either on a pull-up bar for maximum stability or on an assisted hanging leg raise machine. You can also throw on ankle weights for an added boost.
Perform this exercise by:
Place your arms on the machine pads and your back flat against the machine. Hold the handles to make sure you don't move!
Brace your core and bring your knees up to your chest.

You can also perform an L-sit, where your legs remain parallel to the floor and ninety degrees to your body (see above photo).

Hold the top of the movement for a beat, then release back down.
For a full-on hanging leg raise, hold the handles of the pull-up bar. Perform the exercise in the same way but keep your upper body locked. Then release the feet back down to the starting position.
Perform four sets of 10 repetitions.
Now, these are just some basic core exercises. The trick to training core is to make sure that you're hitting all regions — upper, lower, middle, and the obliques. Training abs up to three times a week can help ensure this, as well as incorporating one movement for each muscle group.
A strong core is imperative. In fact, it's your number one stabilizer. Big lifts — such as deadlifts and squats — can be hindered if you don't have a strong core. So take the time to really focus on growing that foundation for not only that six-pack, for overall performance improvement!