What is Fasted Cardio?
More than likely, you've heard of someone performing fasted cardio. Simply put, fasted cardio is performing cardiovascular exercise without eating first. Studies show that this type of morning cardio burns up to 20% more fat than performing cardio after eating. Because of this, fasted cardio is considered the king of cardiovascular exercises. Especially among gym newbies.
Why Does it Burn so Much Fat?
Under normal circumstances, the body requires ATP energy from stored muscle glycogen to perform work. This fuel is taken from dietary carbohydrate — i.e, that cereal you had for breakfast and that sandwich you had for lunch. Those carbohydrates are then broken down into molecules and stored within the muscles. When needed, this muscle glycogen is utilized to perform work.
So what happens when there's no muscle glycogen to support this work? The body goes to its next available energy source: fat. Especially since fat is normally recruited for aerobic exercise. This is due to the body's reliance on oxidative phosphorylation. Oxidative phosphorylation produces the most amount of energy per capita — 36ATP, to be exact — and is the most reliant energy source.
So the body's dependency on fat not only produces the most energy, but also takes stored body fat. So it's basically a win-win. (source linked here.)
The Benefits of Fasted Cardio
Fasted cardio has many benefits. Most of them revolve around fat loss, especially stubborn fat loss, but that's not really a bad thing.
Here are a few benefits to fasted cardio: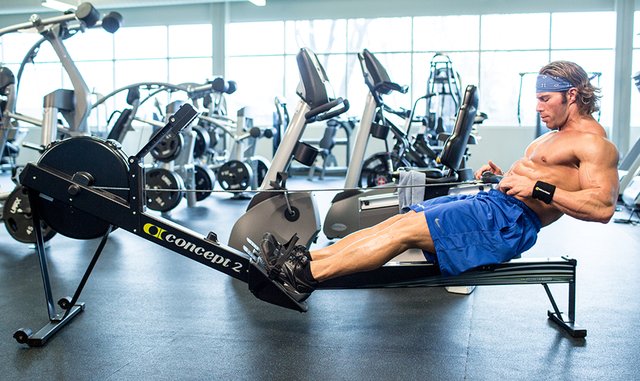 Higher fat burn. This was already discussed, but it doesn't hurt to bring it up again. Performing cardiovascular exercise while in a fasted state increases fat utilization, which increases fat loss.
Target stubborn fat. For women, trouble areas are the thighs and hips; for men, it's the lower back and lower abdomen. Sound familiar? Because the body needs a large amount of energy in order to perform work, it's going to take from the largest stores. Good news for you, it's normally the stubborn areas that have the most fat. So, logically speaking, the body's going to take from there. Another win-win for fasted cardio!
It pairs well with caffeine. Caffeine naturally releases fatty acids from their stores and releases them into the bloodstream. Fasted cardio utilizes fat for energy. Having an influx of readily available fatty acids makes it easier for the body to utilize them as fuel. It also makes it easier for you to lose fat. So skip the breakfast before cardio, but not the coffee.
The Negatives of Fasted Cardio
Unfortunately, there are some downsides to fasted cardio. The positives outweigh the negatives, but the negatives still exist. Here are some arguments against fasted cardio.
It's not the key factor in fat loss. Even though fasted cardio burns 20% more calories than other forms of cardio, it's not the key player in fat loss. Diet is the number one factor in fat loss. Specifically, you need to be in a caloric deficit in order to lose weight. For example, if you burn 300 calories during your morning cardio but eat an excess of 500 calories throughout the day, you're still over your daily caloric intake. No matter how much cardio you perform, overeating is overeating. Therefore, fasted cardio should supplement a well-rounded diet, not replace one.
It can result in muscle loss. This is undeniably the weaker argument of the two, but it's still a possibility. If performing too intense of work with too little energy stores, the body will then utilize muscle for energy. However, fasted cardio should be performed at a moderate intensity at most, so this is not a large issue. If you're concerned about muscle loss, however, then take a scoop of branched chain amino acids or protein powder before your cardio session. It will count toward your daily caloric intake, yes, but will not stop fat utilization.(source linked here.)
The General Takeaway
So you want to begin fasted cardio. That's great! Just remember that it is a supplement to fat loss, not the total solution. Even though fasted cardio burns up to 20% more fat than cardio after eating, it's not the number one solution. First and foremost, caloric intake is the key to fat loss. Secondly, a good cardio regimen.
However, there are more benefits to fasted cardio than negatives. So if you're someone who needs to get up and get their workout in, no sweat. Just drink some coffee or pre-workout and hit that treadmill.